03/29/2017 Professional Development Blog document delivery ILL ILLiad
On March 14-16, Erika and Terry attended the first inaugural OCLC Resource Sharing Breakthroughs Conference in Virginia Beach.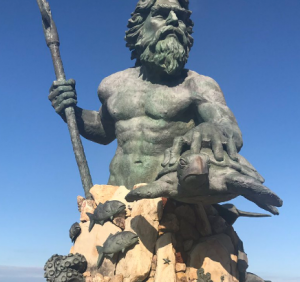 This was an interesting conference for quite a few reasons. Traditionally the "International ILLiad Conference," OCLC's licensing of ILLiad has morphed this conference into the "OCLC Resource Sharing" conference. (This may be the last time that the conference is held in Virginia–it was sold out months in advance.)

Tipasa Tuesday
The atmosphere was electric as OCLC kicked off their conference with a day that focused on their new cloud product Tipasa, a product so new in its development that it may be years before it's ready for libraries our size. There were some tense moments in the ballroom of over 400 attendees from 43 states, DC, and Canada.
Tipasa is still in its early days, as was evident in the presentation. It's a multi-year project with many phases. Tipasa is cloud-based and can run from any browser. OCLC is in the early stages of development. They are conducting interviews and site visits; conducting usability testing; and working with early adopters. Currently there are over 1,200 libraries worldwide that use ILLiad, and 62% of these are medium to large academic libraries that have done a lot of customization of ILLiad to take advantage of its ability to unmediate processes, among other things. The time frame for beginning to transition these libraries is 2018, but this may be optimistic. Only 75 libraries have volunteered to be early adopter libraries—these are very small libraries that have done no ILLiad customization and don't work with other systems. OCLC is still in the early days of Phase 1. OCLC has begun to work with Rapid, upon whom we rely to do our consortial borrowing; however, they have only worked on the non-returnables piece. IDS, another of our significant consortium partners, is somewhere on the horizon but not yet on the roadmap. There are benefits to the new product, such as dual Spanish-English language capability, the ability to embed a chat widget, and the fact that it is mobile friendly. At this point, the system is still entirely mediated, with no routing; metrics are very limited; there are limited notification templates; and there is no NCIP integration. The BLC Resource Sharing COI will most likely be coordinating a letter to OCLC concerning functionality.
Keynote Storytelling
The keynote speaker was Todd Babiak, an inspirational speaker from Canada who spoke about the Story Engine. He talked about the importance of having a story. The use of a master story informs your brand, and to your brain, the story and the brand are the same. He advised us to return to our libraries and begin to investigate our stories. What is our story? What makes our library special? Don't do focus groups; do individual interviews. Draw examples from patrons and staff about what makes us different. A common theme will emerge: the one problem only we can solve. That's your story.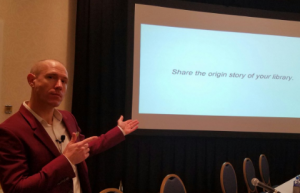 Ask Atlas
Ask Atlas was a session that focused on ILLiad processing tips by Atlas staff, including an interesting way to obtain robust ILLiad metrics. There was more news on the OCLC ILL cost calculator by Dennis Massie. We have reached out to him to express interest in early adoption of the calculator and he told us to expect a call soon. There are many issues in having an open calculator, including security, but there is also other sensitive information to consider, such as salaries. He referenced the most recent cost study by Leon and Kress, and we were part of that study.
Harness Your Resources
Erika and Terry presented the poster, "Harness Your Resources: Doing More with Less." We presented on what we did to streamline and centralize our resource sharing operations and how we use systems like RapidILL and IDS Project to add efficiencies. We heard from many people who were interested in what we did–it's a hot topic.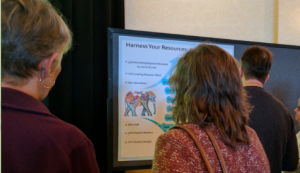 Assessment Plans and Interlibrary Loan
This session discussed options for using LibQual survey data in interlibrary loan strategic planning. Recommendations on how to use the data and align it to library and institutional missions were offered and examples given. One such example was using a positive comment such as, "I love the ILL paging service," and exploring why that service is loved. By conducting additional inquiries, it could be possible to determine how much time a paging service saves faculty and researchers, and that time savings could be measured and translated into cost savings.
Library Information and Resource Sharing: Transforming Services and Collections
This session was presented by the authors of the book, "Library Information and Resource Sharing: Transforming Services and Collections." Discussion was about connecting various library functions and collaborations to focus on user needs. This included advocating for information sharing in all forms. This could include sharing the expertise of one library's staff with another library, such as Columbia and Cornell collaborating to share a subject specialist.
What They Teach You at Harvard: Resource Sharing Centralization and Workflow Enhancements
This talk mirrored much of what Erika and Terry presented in their poster session. Leila Smith, Associate Director of Access Services at Harvard Library, reviewed Harvard library's centralization from 15 sites to 5. This involved consolidating OCLC symbols and absorbing workflows. Taking on more work was necessary because of staff departures and was possible by enhancing their workflows and implementing tools such as RapidILL and IDS Project to reduce mediated processing.