On July 25, Michael Rodriguez and Janice Christopher attended the Ivies Plus Discovery Day at MIT. (The Ivies Plus group comprises Brown, Columbia, Cornell, Dartmouth, Duke, Harvard, Johns Hopkins, MIT, Penn, Princeton, and Yale.) Attendees included user experience designers, developers, catalogers, systems librarians, electronic resource managers, and others, demonstrating the broad scope of library areas impacted by discovery layers.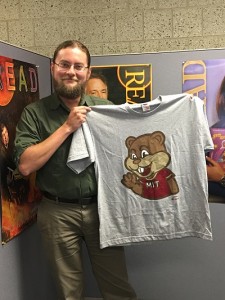 Chris Bourg, director of the MIT Libraries, delivered the opening keynote on making serendipity cool again. Bourg took as her inspiration Roy Tennant's observation that "only librarians like to search, everyone else likes to find . . . and lots of folks like to discover." Bourg's theme was the desire for serendipity, how a task force at MIT is hearing from faculty about how they want an online discovery environment that transcend physical browsing, how they want to make "happy and unexpected discoveries," to learn things that they didn't know that they didn't know. Such a discovery experience requires a different kind of searching from the 2-D linear searching that libraries, Amazon, and even Google offer—it would be a 3-D, associative search that resembles neural networks and mirrors how humans actually think. The first librarian to champion this was Muriel Cooper from MIT, back in 1994. MIT is working with a start-up called Yewno (not out to users yet) that will potentially deliver this type of discovery, or at least a basic flavor of it. Yewno succeeds Stanford University's old Grokker discovery tool. Bourg wrote up her talk on her blog. Or search Twitter for the hashtag #iviesdiscovery.
After an update on the Open Discovery Initiative, we were treated to round-robin demos of the "state of discovery" at each of the Ivies Plus schools. These demos had a couple of interesting trends. First, Blacklight, the open-source discovery layer, was heavily represented as a layer on top of traditional ILSs, along with next-gen discovery (Summon, Primo, EDS) – most sites had multiple interfaces. Sometimes the next-gen discovery was used just for articles retrieval. Second, the "bento box" display is popular – it takes the unified search results offered by the discovery interface and re-silos it into books, articles, videos, etc.
The libraries are doing interesting discovery customizations. Harvard has integrated its archives and finding aides into Primo and is working to customize Primo into its sole discovery interface for images—a project requiring them to build new scopes and create grid displays. Princeton's Blacklight integrates alternative scripts like Chinese and Arabic into item heading displays, so users can read right to left in the original script. Brown is trying to move discovery away from Conway's Law—the concept that organizations end up designing systems that mirror the communication structures of those organizations. Harvard is shifting from a projects-based, one-and-done model toward a model of continuous improvement. There was a fascinating conversation about the degree to which libraries should prioritize discovery versus access – making happy and unexpected discoveries versus being confident that the links will take us to where we need to go.
What emerged in the Q&A at the end of the keynote, and the ODI update, and the discovery demos, and the reason there were so many different flavors of library staff represented in the room, was that making any of these discovery platforms look simple on the front end requires a lot of heavy lifting on the back end. In the course of one major web redesign project, for example, Yale hired four dedicated personnel. Grace is achieved through collaborative programming, configuration, metadata, knowledge base management, user experience, and more.